Board Members serving Lake Viking:
Doug Winter, President

Doug has served as COO, Executive Vice President and Vice president at several successful high volume bar and restaurant concepts, He has also served on 4 different board of directors including Red Rocks Country Club, Smash Burger and Consumer Concept Croup. He is currently Vice President of Hospitality Operations for Meriwether Companies, a private equity corporation that has projects in Colorado, Missouri, Oklahoma and California. Among his additional areas of expertise: financial and project management, budgeting, training and development, profitability, staff retention and setting and meeting strategic goals. Doug is a newer resident to the lake moving to Lake Viking in the spring of 2019. He lives at the lake full time.
Tony Gronniger, 1st Vice President
Retired from The City of Independence MO Fire Department and Missouri Department of
Transportation. Moved to Lake Viking in 2003. On the Lake Viking Volunteer Fire Department,
serving as Fire Chief. Served on Incorporation Study Committee, now serving on Strategic
Planning committee, and as a Commissioner on Daviess County Special Road District #1. Tony has served on the BOD for one and 1/3 years with a short interim term as Lake managing director.
Allan Slavin, 2nd Vice President
Allan served in the United States Air Force for 30 years until his retirement in 2018. During his last 8 years in the service, he was commander of the 442nd Fighter Wing of Whiteman Air Force Base in Missouri. Allan has also served as an American Red Cross "Disaster Service Representative" and has been deployed in six different disaster areas around the country. Allan and his wife Cindy have been married for 30 years, have 5 grown children and 7 grandchildren and are members of Mary Immaculate Catholic Church in Gallatin. They have been Association Members since 1993.
Tom Rice, Secretary

Tom is a trial attorney with over 40 years' experience in the courtroom. He is a founding member of the Baker Sterchi Cowden & Rice law firm. He tries civil jury cases across the country for Fortune 500 companies, coordinating national, regional, and industry-wide litigation. A prolific author, Tom also gives international and national presentations to legal audiences. Tom formerly served on the Lake Viking Strategic Planning Committee. Tom and his wife Karen have been members at Lake Viking for 14 wonderful years. They have six adult children and a number of grandchildren, nieces and nephews. Tom is Board Contact for the Handbook Committee.
George Eshnaur, Assistant Secretary

George and his wife Nicole have been association members for two years. George has a business background emphasizing finance: budgeting, capital expenditure allocation, and long-term strategic financial planning. He has also worked in settings with people of diverse backgrounds, leading to a solid understanding of how to engage and work with people of varying opinions and perspectives.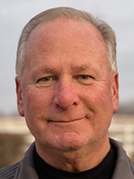 Terry Nibarger, Treasurer
Terry and his wife Julee became members of the lake in 2018. He has served the lake as a member of the Finance Committee, the Strategic Planning Committee, and the Restaurant Exploratory Committee. He is the Branch Manager of Raymond James Financial Services offices in Chillicothe, Trenton, and Columbia, MO, and has been an investment advisor representative for 33 years. Terry and Julee have been married for 39 years and have 2 adult children and 1 grandson.
Jeremy Lillig, Assistant Treasurer
Jeremy Lillig is the Executive Director of Stewardship and Development for the Diocese of Kansas City-St. Joseph and the Executive Director of the Bright Futures Fund, the Endowment Trust Fund for Catholic Education, and the Catholic Community Foundation. Jeremy is also a regular adjunct professor on media representation and non-profit management, serves on non-profit boards and is an artist and playwright. His paintings have raised more than $60,000 for nonprofits and his co-authored plays more than $2 million. Professionally, Jeremy has helped raise over $150 million dollars for non-profit organizations. His awards include the 2018 Nonprofit Professional of the year, the 2015 Emerging Philanthropist of the year and a 2019 Buck O'Neil Legacy seat from the Kansas City Royals Organization. Jeremy received a BFA from Avila University and a Graduate Certificate from the University of Mary in North Dakota. He will be attending Stanford University beginning this summer. He has been a lake member since 2020 and enjoys the beauty of Lake Viking.